Save articles for later
Add articles to your saved list and come back to them any time.
The low-key launch of a new smartphone last week by the heavily sanctioned Chinese technology company, Huawei, is causing consternation in the US and triumphalism in China.
It may not have been a coincidence that the earlier-than-scheduled release of Huawei's Mate 60 Pro came even as the US commerce secretary, Gina Raimondo, was visiting China. Her department is responsible for the imposition of the raft of US sanctions on China's technology companies.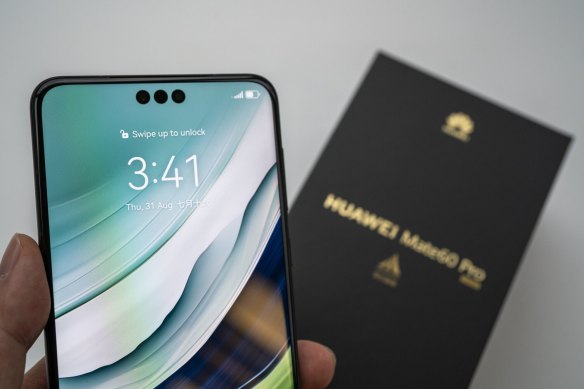 The new Huawei phone shows a dramatic increase in China's technological capabilities.Credit: Bloomberg
It was an unusual product launch, with Huawei keeping the key technical specifications of its new phone under wraps. Chinese state media, however, hailed the phone as a triumph for China's ability to circumvent the sanctions. The phone is Huawei's first higher-end processor since the US sanctions were first imposed in 2019.
The launch set off a scramble by Western technology experts to unravel the mysteries around the phone's capabilities and a guessing game over how Huawei was able to develop the advanced semiconductors that power the new devices.
The consensus appears to be that China's Semiconductor International Manufacturing Corp has used its existing equipment to produce an advanced 7-nanometre, 5G-capable chip based on a design by Huawei's Hi Silicon unit.
Initial testing of the phone shows it is capable of download speeds of 500 Mbps, comparable to those achieved by Apple's current iPhones, although Apple's latest iPhone chips, made by Taiwan Semiconductor Manufacturing Co (TSMC), use what is known as a 4 nanometre process and both TMSC and Samsung hope to mass produce a 2 nanometre chip by 2025. A nanometre is a measure of the size of a chip, with the fewer nanometres, the better.
The reason the phone has generated so much interest is that it suggests that China may have been able to completely design and manufacture a relatively advanced chip without any access to the technology of the US and its allies that it previously relied on.
China has allocated more than $150 billion to its efforts to build a domestic semiconductor industry and last year provided grants of more than $2.5 billion to Huawei as part of that strategy.
Huawei sold out its inventory of the phone, which costs about $1500, almost immediately, suggesting the inventory was quite limited and leading to speculation that the technology might not have been completely home grown.
In the lead up to the Trump administration's initial sanctions on the company in 2019, Huawei stockpiled as many advanced chips from TMSC and other overseas suppliers as it could. It is possible Huawei used what's left of those chips, with some modification and new packaging, for the new phone.
It is also known to have set up a network of secret semiconductor factories within China in response to its sanctions, which may have given it access to chips manufactured offshore before the more recent general sanctions on all exports of advanced chips to China was announced by the Biden administration. The sanctions that apply to any chips or chip-making equipment where there has been US input into the process.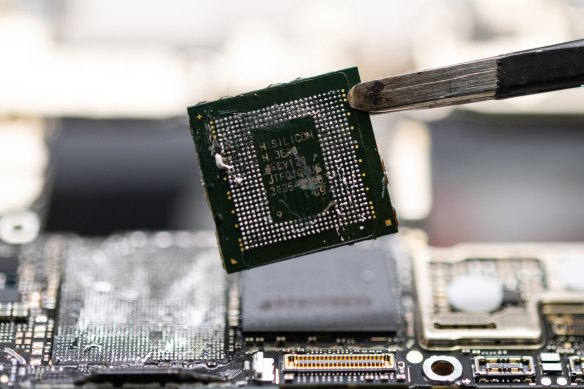 Western tech experts have moved to quickly to take apart and investigate the phone.Credit: Bloomberg
Given the complex geography of the supply chains for semiconductors, that has effectively cut China's access to technologies from all US allies, including key centres like Japan and South Korea.
The US, with some help from the European Commission, also caused the Netherlands to shut down China's access to the only machines, built by the Dutch company ASML, that manufacture the most advanced chips.
If China has been able to produce a chip, designed and manufactured entirely within China, with performance characteristics similar to those of 5 nanometre chips (probably using more expensive and time-consuming multi-patterning technique of exposing the silicon wafers to light multiple times rather than once), it would be a breakthrough even if it still leaves China about five years behind the moving target of the leading-edge Western chips.
The launch set off a scramble by Western technology experts to unravel the mysteries around the phone's capabilities and a guessing game over how Huawei was able to develop the advanced semiconductors that power the new devices.
It was certainly hailed as that by China's state-owned media, which declared that it showed the US sanctions and its efforts to contain China's technological development had failed, with the Global Times saying it proved that "US extreme suppression" had failed and that the phone "serves as a microcosm of the US-China tech war, reflecting the entire process and foreshadowing the final outcome."
Huawei itself described the achievement as "breaking through the blockade."
Huawei was once, briefly, the world's leading manufacturer of smartphones but its consumer division was nearly destroyed by the US sanctions, with its revenues halved. It now has a global market share in the low single digits, with its domestic market share less than 10 per cent.
Even if it can mass produce the Mate 60 Pro in substantial volumes, it probably isn't going to regain its former heights but it could win back a much more significant slice of its domestic market.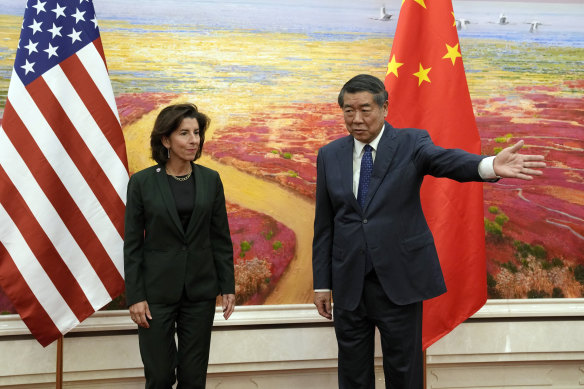 The earlier-than-scheduled release of Huawei's Mate 60 Pro came as US commerce secretary Gina Raimondo, was visiting China. She is pictured with Chinese Vice Premier He Lifeng last week in Beijing.Credit: AP
For the US, the phone's release and its apparent capabilities will cause a review of the efficacy of its sanctions, which may be having the perverse effects of creating incentives for China to develop itself the very technologies that the US is trying to deny it access to. That's what the Global Times was referring to when it said the launch of the phone foreshadowed the final outcome – China's technological independence.
The sanctions are designed to prevent China from being able to manufacture domestically, or buy from offshore suppliers, the advanced chips that are essential for key 21st Century technologies like artificial intelligence or big data and which have both commercial and military applications.
The US may have underestimated China's determination and ability to innovate and its willingness to pour hundreds of billions of dollars into the effort. It's also conceivable, however, that the way the layers of sanctions on Huawei and China's technology sector more generally have been phased in over the past four years means that their full effect has yet to be felt.
The lack of information about the Huawei phone's components and capabilities will quickly be resolved as Western tech experts pull it apart and analyse what Huawei's chip designers and engineers have done.
If their conclusion is that the phone does represent a breakthrough and that China's semiconductor manufacturing capabilities are advancing at a rate that will eventually threaten US supremacy, the US may have to revisit its sanctions and broaden and strengthen them yet again.
The Business Briefing newsletter delivers major stories, exclusive coverage and expert opinion. Sign up to get it every weekday morning.
Most Viewed in Technology
From our partners
Source: Read Full Article