By Tim Biggs
Telstra will differentiate itself from Starlink not only by having technicians install the dishes for customers, but also by having local technical support.Credit: Illustration by Matt Davidson
Save articles for later
Add articles to your saved list and come back to them any time.
Low earth orbit (LEO) satellites are nothing new, having been launched into rotation around the planet since the 1950s. Communication relays, spy satellites, earth imaging systems and space microscopes are all zipping around up there all the time. But with Telstra's announcement this week that it would use Starlink – operated by Elon Musk's SpaceX – to provide phone and internet services, the practicality of tapping a worldwide constellation of LEO satellites for mainstream, accessible communication has come to the fore.
Starlink satellites orbit in the middle of the earth's thermosphere and circle the globe in about an hour and a half, passing 550 kilometres above your head. To imagine that distance horizontally, it's about as far as Sydney is from the Victorian border town of Cobram. It's higher than the International Space Station, but much lower than geostationary satellites that need to stay above a fixed spot on the earth, which are about 36,000 kilometres up.
Australians have been able to access the internet via Starlink since 2021, and it has more than 120,000 subscribers here. For consumers, the company offers one plan with unlimited data, and the requirement that users install the dish themselves. The cost and speed means Starlink isn't competitive with most wired internet connection types, but has proved popular in regional areas.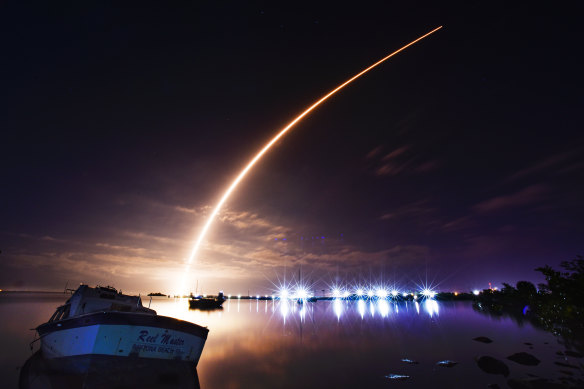 A SpaceX Falcon 9 rocket launches from Pad 39-A at Kennedy Space Centre carrying a batch of Starlink internet satellites.Credit: AP
Starlink also has business plans that offer higher speeds and priority access at a much greater cost, as well as a portable plan that can be attached to motorhomes or boats. In Australia, businesses can sign up directly through Starlink or through local telco Vocus, which is even testing a drone product that emergency services can use to send Starlink-powered Wi-Fi into disaster or rescue situations.
But Telstra will be the first in Australia to resell Starlink services to consumers when it rolls out the new service later this year. And it will be the first in the world to offer bundled internet and phone to consumers using the satellites.
"We're looking at satellites as a way to upgrade and get out of the copper network. Regional networks in particular where the copper infrastructure is still used quite heavily, because it's the only thing available. We view LEO [satellites] as a great alternative to that," said Nikos Katinakis, Telstra's group executive of global networks and technology.
"LEO is the only altitude where voice works quite well. So people end up with a very good voice product, and a much better broadband connection compared to what they get today in DSL, which is really a 30- or 40-year-old technology."
Telstra hasn't been keen to make the comparison, but on paper the Starlink technology also outpaces the NBN's own Sky Muster satellites in practically every way. The pair of massive, heavy Sky Muster satellites are in geosynchronous orbit thousands of kilometres above Australia, and for many rural customers have provided the only connectivity alternative to copper available through traditional telcos.
But being so high up, Sky Muster connections have unavoidable latency of about 600 milliseconds, which makes it very difficult to use for gaming, voice calls and video conferencing, as many users discovered the hard way during the pandemic. It also offers a relatively slow connection of around 25Mbps. By contrast, Starlink promises latency as low as 25 milliseconds (though tests show it can be up to 40), and its consumer plan has speeds between 100 and 200Mbps.
Whether because of the competition from Starlink, or because of the increasing footprint of fixed wireless connections in regional areas, Sky Muster sign-ups have stalled over the past few years, with the overall number of customers now less than Starlink. NBN has said it's working on increasing the performance of Sky Muster, most recently providing a premium tier that has "bursts" of up to 100Mbps when network conditions allow.
While Katinakis acknowledged the superior performance of Starlink's satellites over NBN's, he said they were different technologies that weren't strictly competing.
"What you will get out of the Telstra service will definitely be better than Sky Muster. But again, NBN is investing money in improving the Sky Muster capacity, and I do expect to see that improvement materialise," he said.
'The concerns that we have are more about space debris, and cluttering the sky, impacting the visual component.'
"It's a different satellite technology. It's older, it's not LEO, which means less capacity for the same surface area, so I don't expect it to match."
The biggest advantage of LEO, as far as Telstra's concerned, is that it can be deployed anywhere you can't get to with terrestrial networks. Katinakis said the telco sees three main types of customers for the service: people who are already covered but who want an additional connection somewhere else on their property, for example on a farm; people who are still stuck on copper DSL, and; people who don't have access to any reliable internet.
"If you think of the teeny tiny communities around Australia, where it's truly uneconomical to put in a cell site – now you can provide connectivity for that small community through a satellite service and a hub in the middle of a community," he said.
So are there downsides to LEO satellites? From Telstra's perspective it's a solid proposition in terms of performance right now, though it is keeping an eye on potential future hiccups.
"They are going to get into congestion trouble at some point, like every other network," Katinakis said.
"The concerns that we have are more about space debris, and cluttering the sky, impacting the visual component. From a product performance perspective we don't have any concerns at this point. They will come in the future."
Those are familiar concerns when it comes to Starlink. SpaceX claims its satellites are designed to dissolve in the earth's atmosphere if they leave their orbit, meaning they pose no threat or striking the ground. This is also how the company disposes of older satellites once they're replaced by newer models – by "de-orbiting" them. But some regulators have likened the surrounding of our planet with satellites to littering the ocean; sooner or later it will become too much, and we might find the problem difficult to rectify. Small space debris can be dangerous, especially if it ends up near any capsules occupied by humans, as it screams around the earth at 28,000 kilometres an hour.
Starlink satellites can also sometimes be seen from earth, providing an interesting or infuriating view for sky gazers depending on their perspective. Most of the time, you won't be able to spot them without the aid of a sky map app or a time-lapse photo, but they are much more visible when they've only recently launched, as they cling together and look like a moving train of bright dots.
Initially the satellites were a source of great frustration for professional astronomers, as long exposures are vital to their work and streaks of moving LEO satellites could ruin their view. But SpaceX has been working on mitigations, including changes to its satellite's solar arrays, mirror film and paint. Earlier this year it signed an agreement with the American National Science Foundation, committing to easing impacts on astronomy.
As for network congestion, anecdotal reports from the US have suggested Skylink has become slower over time as more users have signed up. Katinakis said all we can really do is trust SpaceX will keep pumping satellites into the sky to account for increasing demand.
"We are contemplating how much of a [speed] guarantee we can provide, when Starlink themselves have been very clear with their customers and everybody else that it is a best effort, and you get what you get," he said.
"There are about 4000 Starlink satellites around the globe, the expectation is that number will increase to about 12,000. So that is really an indication of the capacity planning that they're doing, which is very similar to the capacity planning that we're doing on the terrestrial networks."
The biggest question remaining is one of price. The consumer Starlink plan is $140 a month, with a substantial initial cost of about $900, though this is often discounted. By comparison, telcos are selling premium Sky Muster plans for around $100 a month.
Telstra has given no guidance on the price of its plans. But Angus Kidman, utilities expert at comparison site Finder, said it would likely not be cheaper.
"Telstra positions itself as a premium service, so I'd expect the costs to be higher than DIY installations, which is what Starlink currently offers," he said.
"Given Starlink has been promoting $199 installs recently, Telstra will need to make sure its deal seems competitive."
Telstra will differentiate itself from Starlink not only by having technicians install the dishes for customers, but also by having local technical support, which Starlink itself lacks.
"Anecdotally, most folks in highly remote areas wouldn't be fazed by putting a dish on their roof by themselves, but the service could have appeal for some users," Kidman said.
Another factor is that a Telstra connection would bundle an internet connection via router with a voice connection via VoIP (Voice over Internet Protocol) service and an ordinary phone handset, while also appearing on the same bill as any existing Telstra mobile services, which could offer convenience.
Given the finite amount of space in low earth orbit and the fact that SpaceX already plans to have 12,000 satellites up in the near future, it's yet to be seen whether a competitor could arrive in the sector. But the NBN is already reportedly canvassing local companies that could launch a constellation of its own.
Amazon's Kuiper Systems intends to launch thousands of LEO satellites via Jeff Bezos' Blue Origin company among others, though it has yet to launch any. SpaceX competitors Telesat and OneWeb also have constellations of their own, though with much lower capacity.
Get news and reviews on technology, gadgets and gaming in our Technology newsletter every Friday. Sign up here.
Most Viewed in Technology
Source: Read Full Article