Save articles for later
Add articles to your saved list and come back to them any time.
The American summer is usually the most exciting time of year for video game fans, as the massive E3 expo has typically drawn all major publishers together to announce their latest wares. But with the expo disappearing during the pandemic, and folding this year due to a lack of exhibitors, it was a disjointed series of unrelated online streams that delivered the goods.
This year has already been incredible for games, with big budget masterpieces including The Legend of Zelda: Tears of the Kingdom, Diablo IV, Street Fighter 6, Star Wars Jedi: Survivor, Resident Evil 4, Metroid Prime Remastered and Fire Emblem Engage comprising a near-unprecedented six-month lineup.
And the coming months look to continue that trend with Final Fantasy XVI, Mortal Kombat 1, Armoured Core 6, Assassin's Creed Mirage and more.
Still to come in 2023: Marvel's Spider-Man 2, Alan Wake 2 and Starfield.
But the big publishers nonetheless faced a lot of pressure in proving their platforms in the absence of an E3. Sony needed to fill in a road map of big games ahead for its PlayStation 5 and PSVR 2, which it largely did not. Microsoft needed to prove its Game Pass service would be well-furnished even if its high profile aquisition of Activision ended up blocked by regulators, which it did with an impressive showcase of 27 games.
Between those two major showcases, the independent Summer Games Fest and a raft of smaller events, we also got a good idea of the biggest games we'll be playing at the end of this year. Here are three to look forward to.
Marvel's Spider-Man 2
October 20, PS5
Spider-Man 2 lets you switch between Peter Parker and Miles Morales in an expanded New York.
In 2018, Marvel's Spider-Man was the greatest superhero video game ever made. And since then, it's been topped only by 2020 spin-off Miles Morales. The blend of free-form web-slinging through an expansive city, exciting combat against a huge roster of foes, and surprisingly personal storytelling put these games far above the rest in the genre. Now, in Spider-Man 2, the Spider-Men seem set on a collision course.
A trailer at Sony's showcase had the player switching between both Peter Parker and Miles Morales, but the crime-fighting team has changed significantly since we last saw them. Miles is more confident and proficient, while Peter appears in a black suit and has seemingly accepted the help of an alien symbiote. As fans of the franchise might expect, this also means he's acting more angrily, violently and carelessly than before.
Meanwhile, the game expands the playable area to new boroughs of New York, introduces Venom and Kraven the Hunter as new primary antagonists, and brings in a lot more options for suits and powers. Notably, the trailer showed our heroes flying around in wing suits, which should help in those areas where there are no tall buildings to swing from.
Alan Wake 2
October 17, PC, PS5, Xbox Series X/S
Alan Wake 2 introduces new character Saga, an FBI detective.
Alan Wake was a cult favourite in 2010, from Finnish studio Remedy, which at the time was known only for Max Payne. But the studio has since grown substantially, with several big games culminating in 2019's widely celebrated psychological thriller Control.
Now it's going back to the world of Alan Wake, in what's shaping up to be a surprise sleeper hit of 2023.
The first game followed a suspense writer whose works greatly resembled those of Stephen King, who travels to the small town of Bright Falls to alleviate his writer's block. However, what appears at first to be a psychotic break ends up being a dark presence feeding off Wake's words and bringing them to life, twisting the town into something awful.
Alan Wake 2 appears to make a significant genre twist, from literary suspense to supernatural crime investigation. Trailers have introduced Saga Anderson as an FBI agent exploring Bright Falls, in scenes reminiscent of True Detective or The Outsider. She appears to find pages of a horror novel that describe the exact case she's working on.
According to Remedy, the game will feature two parallel storylines that players can switch between as they choose. One will follow Saga, and the other will follow Wake, still trapped in whatever dark dimension he was left in at the end of the first game.
Starfield
September 6, PC, Xbox Series X/S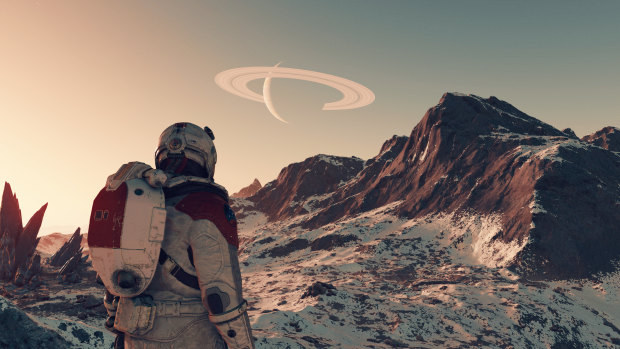 Starfield makes an entire galaxy of 1000 planets into your playground.
From the creators of Skyrim and Fallout 4, the eight-years-in-development Starfield is another of Bethesda Studios' impossibly large solo role-playing games where you're free to do almost anything you please, comprised of multiple massive systems that could each more or less be games unto themselves.
But whereas the previous games took place in high fantasy and post-apocalyptic worlds respectively, this is a sci-fi galaxy with more than 1000 planets to explore. You define your character's looks, traits, skills and background, and choose whether you'll join humanity's last space explorers on a mission of discovery, or veer off course to pursue your own goals in this immense stellar playground.
Last week a brilliant 45-minute mini-documentary featured members of the team describing their favourite parts, and it painted a picture of game that – like Skyrim – could be played for 10 years and still hide a surprise or two. You can become a space pirate boarding, raiding and looting every traveller in sight. You can design and customise your own starships, or build a research base on an uncharted planet or moon. Or you could simply explore to see how weird the outer worlds get.
To create an entire galaxy of planets, the game obviously makes use of procedural generation; where worlds are stitched together by the game as you approach them rather than being hand-made. But Bethesda says these will still be filled with its trademark quests and characters; there is more hand-crafted content in Starfield than in Skyrim and Fallout 4 combined.
Looking ahead to 2024
Star Wars Outlaws combines Ubisoft's familiar open-world action with a familiar Lucasfilm vibe.
Many of the other games shown at the various showcases were given no release date at all, but there were four notable titles that we were explicitly told are planned for release next year.
Ubisoft, whose global network of studios has brought us dozens of Assassin's Creed, Far Cry and Tom Clancy games, has been handed the reins of a galaxy far, far away and is producing Star Wars Outlaws. As you might expect, it's a stealthy open-world adventure which follows young scoundrel Kay Vess as she unexpectedly finds herself as one of the galaxy's most wanted and has to juggle relationships with the various syndicates operating under the Empire's rule.
Final Fantasy VII Rebirth is a follow-up to Square's popular 2020 Final Fantasy VII Remake. Players of that game will know (spoilers!) that it deviated significantly from the plot of the original, with antagonist Sephiroth more or less becoming aware that he was in a remake and changing the course of fate. This next game, then, takes Cloud and the other beloved characters into somewhat uncharted territory.
Obsidian, which is known for role-playing games Outer Worlds and Pillars of Eternity, is trying its hand at first-person swords and sorcery in Avowed. Set in the Pillars universe, the game has players investigating a mysterious plague while recruiting companions and developing more powerful spells, weapons and firearms.
A classic franchise is returning to its side-scrolling roots with Prince of Persia: The Lost Crown, under development at the French studio also responsible for all mainline Rayman games. It has an incredible colourful look, features time-bending fast-paced combat and looks to include the kind of item-based progression common in Nintendo's Metroid series.

Get news and reviews on technology, gadgets and gaming in our Technology newsletter every Friday. Sign up here.
Most Viewed in Technology
From our partners
Source: Read Full Article