Save articles for later
Add articles to your saved list and come back to them any time.
Apple is fond of calling its MacBook Air, which has been around for 15 years, the "world's best-selling laptop". But it's only ever been available with a display size of around 12 to 13 inches, leaving those wanting more screen space to stump up for a MacBook Pro, or look to the plentiful 15-inch Windows machines.
That changed this week, as Apple began selling a 15-inch MacBook Air for the first time. To say it is the same machine as last year's M2-powered MacBook Air, just bigger, would be reductive. But it would be more or less accurate as far as consumers are concerned, and that's clearly Apple's goal; one Air, in two sizes.
The new Air is bigger, but delivers the same performance and battery life as before and is still one centimetre thick.
This machine will also presumably bring in a new audience of mid-level power users who like to work on the go, ensuring Apple will be able to continue to use its "best-selling" catchphrase. And it allows the company to bring back a variation on an old favourite; the Air is no longer the thinnest laptop in the world, but the new model is definitely the thinnest 15-incher.
"We wanted to extend the offering, knowing that in the PC laptop space there's a very large market in terms of the 15-inch," said Laura Metz, Apple's director of product marketing.
"With Apple Silicon we felt we could deliver a product that didn't compromise on performance, display resolution, battery life or design. We had all the components to make a wonderful 15-inch laptop."
When closed, it's not really that much bigger than the latest 13-inch Air. Around four centimetres wider, two centimetres deeper and just as thin; or 30cm x 22cm x 1cm in total. But when you open it up the difference seems significant. Stacking two apps or windows side by side gives plenty of room to work in both, there's a nice amount of plain metal around the keyboard, and the trackpad has been widened to feel a lot less cramped.
You get the same divisive shallow keyboard, the same port lineup of two Thunderbolt USB-Cs, a MagSafe and a 3.5mm audio, plus the same sharp LED-backlit IPS screen at the same pixel density, just bigger. And of course, it's all powered by the same M2 chip, which may be a year old at this point but still delivers more than enough power for everyone except hardcore gamers and creative professionals.
Kate Bergeron, Apple's vice president of hardware engineering, said it wasn't strictly accurate to say it was the same laptop under the hood.
"In order to achieve the same 18-hour battery target on the larger system as we have on the 13-inch, we needed a little bit bigger battery volume because the power on the 15-inch display is just a little bit higher than the 13-inch," she said.
"We wanted to make sure that we didn't compromise, that our users choosing the larger laptop wouldn't get lesser battery life, even while we're trying to keep the system as thin and light as possible."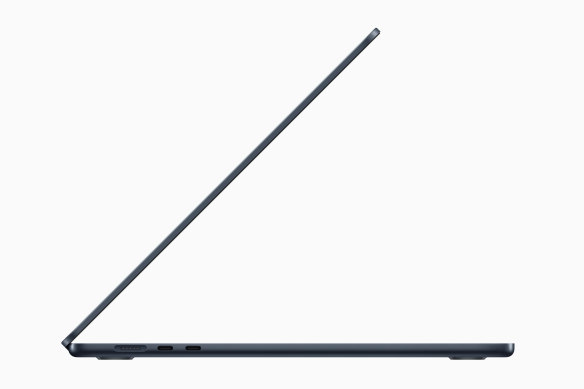 The bit of extra room on the new Air's frame has not resulted in any additional ports.
There's also a slightly improved speaker system with two extra woofers, though this is still a one-centimetre thin laptop, and you should you set your expectations for deep bass accordingly.
Apple promotes the 13-inch M2 MacBook Air as starting at $1800, and the 15-inch at $2200, so at a glance it seems like you're paying $400 extra just for the bigger screen. But in practice it's a little more complicated.
The smaller Air has the option of a less powerful graphics unit, which you don't get on the 15-inch. And both devices start with 256GB for storage, but for the sake of space and transfer speed I'd strongly recommend getting the 512GB as a minimum. So in a sensible like-for-like comparison, it's $2300 for the 13-inch and $2500 for the 15-inch, or a $200 premium for the big screen. This difference follows through even if you add as much memory and storage as possible, up to $3800 and $4000 for machines with 24GB of RAM and 2TB of storage.
The larger screen on the 15-inch Air makes for a lot of extra room in photo editing or word processing.
As for whether you need to jump up to a MacBook Pro, the line-up gets a little bit confusing because there is a $2000 13-inch Pro that is very similar to the smaller Air. The main difference is that it, like all Pros, has active cooling via a fan so the M2 chip runs more efficiently. Metz said the way Apple thinks about it is that the number-one goal with Air is portability, and the number one goal with Pro is performance. And the Air is significantly lighter across the board compared to the Pro equivalent; the 15-inch air weighs 1.5 kilograms, against the heaviest Pro at 2.2 kilograms.
It's not controversial to say the MacBook Air is an excellent laptop, and using the 15-inch model feels very familiar, just a bit more useful for multitasking on the go, with the trade off being a bit more bulk. The progress towards making all apps compatible on Apple Silicon is happening fast, and I didn't come across anything that didn't work smoothly.
The Air does offer enough graphical grunt to support Apple's recent push into gaming as well, though it obviously won't replace a high-end PC, and it's still a bit of a hassle to find out which non-App-Store games are optimised for Apple Silicon. I was able to play No Man's Sky at full native resolution and high settings at around 60 frames per second, which is not too bad at all, but keep in mind my review model had 16GB of RAM, which is a $300 premium over the base 8GB.
Of course, the 15-inch model does inherit the less-good aspects of the Air as well. There aren't enough ports for a start, and you're limited to one external display. The screen is nice, but on a PC for a similar price you'd expect it to be brighter, and get HDR compatibility and/or a high refresh rate. And the webcam is acceptable, but you'll get better results from practically any external camera (and the less said about the big display notch the better). iPhone users have the option to turn on continuity and use the lens on their phone.
But those niggles aside, this new laptop fills a vital gap in Apple's line-up. Previously the only way to get a screen bigger than 14 inches on a MacBook was to pay at least $4000 for a 16-inch Pro, which is fair enough if you want the HDR 120Hz display and huge amount of power, but plainly excessive if you don't.
Get news and reviews on technology, gadgets and gaming in our Technology newsletter every Friday. Sign up here.
Most Viewed in Technology
From our partners
Source: Read Full Article