Save articles for later
Add articles to your saved list and come back to them any time.
We're on the cusp of big phone announcement season, with new Samsung foldables expected next month, then new iPhones and Google Pixels in September or October, and Samsung non-foldies after that. But what if you need a new phone now, and aren't willing to break the bank to get the latest features?
The days of spending top dollar to get a first-rate smartphone are behind us. These days, mid-range Androids comprise the bulk of the market and here are three options that offer great value at a decent price.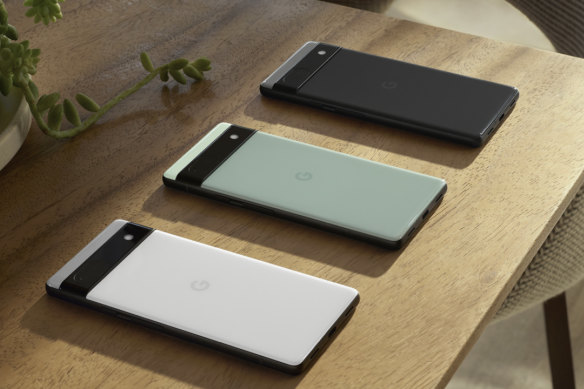 Google's Pixel 6a may be a cut-price version of a 2021 phone, but it holds its own in 2023.
The best overall: Google Pixel 6a
While the $750 Pixel 7a is one of the best Android phones of 2023, its predecessor the Pixel 6a is no slouch either. At $600 it arguably offers much better value overall.
There's no compromise on screen quality, with the 6a's 6.1-inch HDR OLED, and its pair of main cameras (wide and ultra-wide) provide the best results across different lighting conditions you can get in this price range. While the 7a adds a faster processor and glitzy features such as higher refresh screen and wireless charging, those aren't essential for most users.
What really makes Pixels special is the software experience. Unlike most Androids, you won't turn it on for the first time to find a lot of confusing bloat and unnecessary apps; it's just the essentials, and during set-up it will offer you a list of suggested apps you can accept or decline. It's honestly the only brand I've used where it feels like everything that's on the phone is there because I want it.
And the Pixels are very good at combining an easy minimalism with some powerful AI features. I like how the icons, system elements and a lot of the widgets can change hues to match my wallpaper, and the system-wide search is among the best there is.
On the AI side, you can get the phone to answer calls for you and report what the person says in text if you suspect it might be spam, or if you're on hold to a toll-free business you can leave the phone, and it will call out when a person comes back. There's also a great real-time transcribing and translating voice recorder, smart photo editing options and a feature that automatically tells you what songs are playing around you.
Features introduced in the latest Pixel phones also generally land on the old ones, via regular "feature drops". The 6a comes with guaranteed Android feature and OS updates until at least July 2025, and security updates until at least July 2027.
The best value Galaxy: Samsung Galaxy A34
For some of us, Samsung is synonymous with Android. But the latest flagship models are very expensive, while the cheapest phones are often not worth the trouble. But smack in the middle of this is the Galaxy A34, a fast and pretty phone with an RRP of $600 but which can be found for as little as $450 with some hunting around.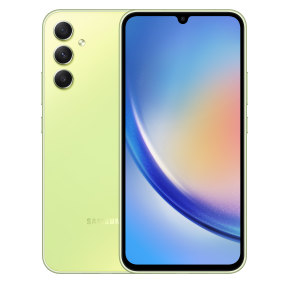 The A34 also comes in black, but who could pass up lime?
Like most Samsungs, the A34 goes big on some flashy features, but unlike the less expensive models it can also move enough juice around to power them all. It has a very bright 6.6-inch OLED that forgoes HDR for a super-smooth 120Hz refresh, plus a triple main camera set-up (adding a dedicated macro lens) that hands in some great results. It also carries that very cool 2023 Galaxy look with individually cut out rear lenses.
In a practical sense, the main difference between this phone and the Google Pixel (aside from the display priorities) is the software. Like the Pixel, the A34 comes with Android 13, but it has Samsung's One UI 5.1 over the top.
That means users switching from other Samsungs should feel at home, and you do get a decent number of the features included with the top-of-the-line S devices on the A34. The UI is a bit too jam-packed for my liking, but that's a personal preference. It also annoys me to have Disney+, TikTok etc there on the phone right out of the box.
Just below the A34 in the Samsung range is the $450 A23, but it's a bit anaemic on power and makes a few too many compromises in screen quality and build for me to consider it better value (I haven't seen the newer A24 in Australia yet). Samsung promises "four generations" of OS updates for the A34, but I'm not entirely sure if that means four years.
The best for least: Motorola Moto G22
While most phones today have decently sized screens, multiple cameras and small notch cutouts that make them look nice enough, if they skimp on the power, software, battery or build components, you'll regret not paying a little more.
That said, the $280 Moto G22 is as low as I've seen a phone go without suffering some fatal flaw.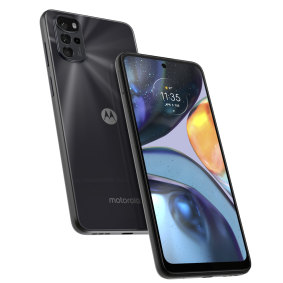 The Moto G22 is light on features, but it's light on price too.
To be clear, compared with the above phones the Moto G22 has a dull and low-resolution screen, underwhelming performance, no 5G, no waterproof rating and so-so cameras. But it does have a solid grasp of the smartphone basics for less than $300, and it packs some of those budget phone favourite features including a 3.5mm headphone jack, dual SIM, microSD card slot and a long battery life.
The LCD is nice and big at 6.5 inches, and it runs at 90Hz, although it can't always push graphics fast enough to make use of it.
You're not going to be multitasking or running intensive games on this thing. In a set-up familiar to anyone who's used a cheap phone recently, the camera looks impressive and even has some big numbers on paper, but you'll need to keep it in its comfort zone; heaps of light and minimal movement.
The Moto comes with Android 12, and like the exterior of the phone itself, it's very plain, but that's not a bad thing. You don't get any of the deep customisation and AI stuff of the Pixel phones, but you don't get heaps of bloat and unnecessary clutter either. It's a more or less vanilla Android with a few Moto sprinkles on top.
There are plenty of phones at the $400 mark that will do everything you want quite well, including the Moto Edge 30 Neo and Nokia G22 (no relation to the Moto), and if you're patient you can generally catch something of that calibre on discount for a bit less.
But if you need a phone and want to pay no more than $300, the Moto G22's pretty good. I wouldn't expect too much in the way of Android updates.
Get news and reviews on technology, gadgets and gaming in our Technology newsletter every Friday. Sign up here.
Most Viewed in Technology
From our partners
Source: Read Full Article