Save articles for later
Add articles to your saved list and come back to them any time.
Search giant Google pulled in a record $8.4 billion in revenue from Australia last year but channelled most of the money offshore via reseller agreements while the social network Twitter, which has dominated headlines, made $19 million.
The results show how Google, away from the spotlight and with a much more orthodox management strategy than that of Twitter's billionaire boss, Elon Musk, quietly continues to make enormous amounts of money.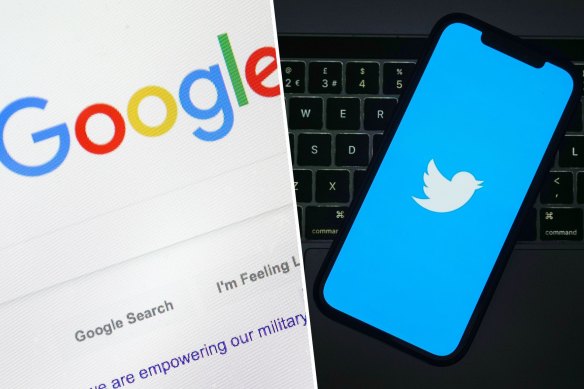 Google has continued to make vastly more money than Twitter even as it attracts far less attention.Credit: AP / Getty Images
Google Australia's earnings also put it ahead of the highest estimates of Facebook and Instagram-owner Meta's Australian advertising revenue for the last financial year. But Google's more recent global quarterly earnings reported in the US last week showed another drop in advertising revenue, just the third for its parent company, Alphabet, since it went public in 2004.
Accounts lodged with the Australian Securities and Investments Commission, which give a snapshot of a company's performance but not the full picture, show Google Australia recorded $1.9 billion in net revenue, paid $92 million in income tax and made an after-tax profit of $274 million for 2022.
The tech giant shifts most of its earnings to an international subsidiary, which ultimately reduces the amount of tax it has to pay in Australia. Gross revenue climbed 12.5 per cent in the calendar year to $8.4 billion and advertising revenue grew from $6.1 billion to $7.1 billion, up 16.4 per cent.
Twitter made $19 million in gross revenue from Australia for the same period, despite an increase of almost 30 per cent year-on-year. Twitter swung from a $2 million loss to a $535,169 profit in 2022, according to its financial documents, which are from the year that the tech company shut most of its local operations. Its tax bill was $804,217.
Twitter has hogged headlines as Musk made drastic cuts in an attempt to turn its finances around, quarrelled with celebrities, alienated advertisers, banned some journalists from the platform and made haphazard progress on a new blue tick verification system.
Companies pay taxes on profits, not revenue. However, tech companies have been criticised for funnelling money generated in Australia through offshore subsidiaries in lower tax jurisdictions to reduce their local profits and minimise their tax bills. Despite most of its money moving offshore, Google is publicly supportive of efforts to reform the global tax system and is a voluntary signatory of Australia's Tax Transparency Code.
Twitter does not return journalists' requests for comment. A Google spokesman said the company had invested more than $1 billion in its local operations in 2022.
"We are continuing to work with local partners to implement our digital future initiative, a $1 billion five-year project that's building capabilities in Australian technology, infrastructure, research and partnerships," the spokesman said. Google is the only international technology company to sign Australia's voluntary tax transparency code, which publishes annual reports each year.
The two financial disclosures give insight into the strength of some of the world's most powerful tech companies and their ability to generate cash, albeit at a slower pace than previously, in an environment of weak economic conditions and despite advertising dollars drying up towards the end of the year.
Of Google's net local revenue, nearly half came from advertising, 23 per cent from its services and 16 per cent from hardware sales such as its Pixel phones.
The Australian Competition and Consumer Commission released research last week drawing on unaudited data disclosed by Facebook and Instagram's owner Meta that put its advertising revenue from Australian customers at between $4.7 billion and $5.1 billion in the year to June 2022. Documents filed to the regulator claim Meta made $1.3 billion in advertising sales locally last year – up from $1.14 billion – but $1.03 billion was sent overseas and marked as reseller expenses. It says net revenue was more than $224 million for the period.
Despite the growth, Twitter and Google face major headwinds. Google is having to contend with Microsoft's Bing search engine, and Meta is contending with the rise of TikTok.
The Business Briefing newsletter delivers major stories, exclusive coverage and expert opinion. Sign up to get it every weekday morning.
Most Viewed in Technology
From our partners
Source: Read Full Article