Attracting millions of viewers each week and winning constant critical acclaim, HBO's The Last of Us is a far cry from the kinds of video game adaptations many people are used to.
From the '90s atrocities of Super Mario Bros and Double Dragon, to the soulless set-pieces of Tomb Raider and Assassin's Creed, to practically the entire awful filmography of director Uwe Boll, films and TV shows based on video games have a bad reputation, and for good reason. So, is The Last of Us a one-time fluke, or has something finally changed to lift the curse?
The Last of Us had HBO's second biggest debut ever in the US, and viewer numbers per episode have almost doubled since then.
On the surface, The Last of Us looks like a special case, as the original 2013 game is almost uniquely suited to becoming a TV show. Created by Naughty Dog, a studio previously most famous for Crash Bandicoot and Uncharted, it was arguably the most cinematic game ever made at the time of release.
It took a restrained and understated approach to extremely complex and mature themes in a way that was more the realm of a Cormac McCarthy novel (or, say, a $20 million per episode HBO series) than a standard high-budget video game. And though it also innovated in terms of gameplay mechanics, for example in the extended gunfights, environmental puzzles and scavenging to create improvised weapons, that aspect is easy to separate out (and indeed doesn't really feature at all on the show), leaving a ready-made template to be massaged into a prestige TV drama. I'm pretty sure most people tearing up over the finale of The Last of Us TV show would have also been hooked by the game, had they been in a position to try it.
10 games with adaptations announced
Alan Wake (Series, AMC)
Borderlands (Movie, Lionsgate)
The Division (Movie, Netflix)
Duke Nukem (Movie, Legendary)
Fallout (Series, Amazon)
God of War (Series, Amazon)
Gran Turismo (Movie, Sony)
Horizon Zero Dawn (Series, Netflix)
Mega Man (Movie, Netflix)
Twisted Metal (Series,NBC)
This all makes for a key difference compared to past adaptations, where stripping out the play from an excellent video game seemed to leave film-makers with nothing but cringe-inducing plots, preposterous characters, monster designs that are hard to do in live action, or martial arts experts in bikinis to work with. Even the adaption of Naughty Dog's own Uncharted fell somewhat flat; the games may have borrowed a lot from Indiana Jones, The Goonies and Errol Flynn, but the scenarios and even the dialogue are robbed of almost all impact when you remove the interactivity.
Still, in some ways The Last of Us is the herald of a new wave of high quality video game adaptations. But as with comic book movies, they won't all be the kind of thing that gets a traditional film critic's tongue wagging.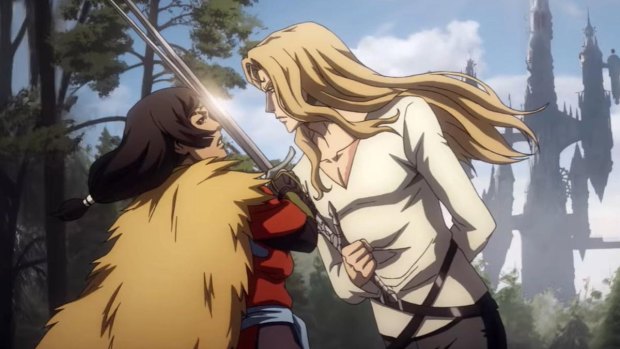 The recent animated Castlevania adaptation has been well received.
As the gaming audience has aged up (the average age of game-players in Australia is pushing 40), professional film-makers inevitably have a better grasp of why game stories work and how to adapt them to linear formats. Plus video game stories and worlds are now more diverse than ever before, creating far more options to pull from, and technological advancements have led to games (like The Last of Us) more closely emulating theatrical greats.
Take a look at the latest trailer for Nintendo's Super Mario Bros movie, which is shaping up to be a successful family blockbuster next month, despite Mario games generally have indecipherable narratives and being all about play.
By lifting only the most the iconic settings, designs and mechanics from more than 30 years of games, understanding why the audience likes these things, and handing them to the foremost experts in turning bumbling nonsense characters into successful animated films — Illumination, creators of Minions — Nintendo may have an enormous hit on its hands. Compare that to the 1993 train wreck based on the same series.
The non-gaming audience may have missed it, but The Last of Us is also not the only video game to have been successfully adapted to TV in recent years. The Witcher on Netflix is an obvious one, but animated series' based on Castlevania, Cyberpunk and League of Legends have also been extremely well received critically. The many different avenues for film and TV to succeed in the 2020s versus any previous time — broadcast and cable TV, cinemas, rent and buy on demand, streaming serials, animated features etc — means that ideally games can be adapted in a way that suits the source material.
It's no secret that the Netflixes, Amazons and Paramounts of the world have a rapacious need for content, and once the comic book well starts to run dry there's a very real chance video games will be mined in earnest for all kinds of linear storytelling.
Only fairly recent or very cinematic games will be able to follow the same path as The Last of Us, and many are already confirmed in production including God of War, Death Stranding, Metal Gear Solid, The Division, Gears of War, BioShock and Horizon Zero Dawn.
But expect to see projects plumbed from the depths of retro and indie obscurity as well. Sega has ordered films based on ancient franchises Streets of Rage and Space Channel 5, a Mega Man movie has been picked up by Netflix, and deals have also been struck for projects based on recent indie successes It Takes Two and Sifu.
Get news and reviews on technology, gadgets and gaming in our Technology newsletter every Friday. Sign up here.
Most Viewed in Technology
From our partners
Source: Read Full Article