The tech purge has so far claimed 500 "Atlassians" and another 800 or so "Xeros" in the past week, as staff at those software companies are known.
If Canva, the Australian graphic design software darling, follows suit, its founders will send exit emails to a host of "Canvanauts".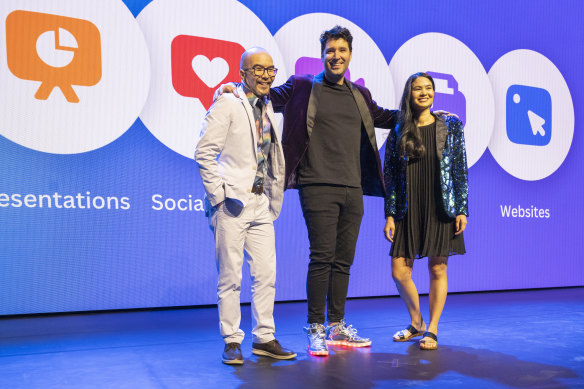 Canva co-founders Cameron Adams, Cliff Obrecht and Melanie Perkins at a company event last year.Credit:Louie Douvis
These folksy nicknames are a symptom of an industry that until recently was doing everything possible to attract talent. The pandemic had provided a boost to the sector, which was already riding high on frothy valuations, access to cheap money and the winds truly blowing in its favour.
But now the gale has reversed course and Canva, valued at $US25.6 billion ($38 billion) and Australia's largest start-up, is among the last major technology companies with its full workforce left standing. At 10 years old, it has never shed jobs and is known for its generous, even lavish, pay packages. Last year alone it hired 1400 people, taking its total workforce to 3500.
Are cuts coming? Canva says a confident no, but it is hard to be certain when a company like Atlassian went from a nationwide hiring tour in October to lay-offs in March, even as it has 700 open roles.
And cultivating a large workforce brings its own perils. Former Canva staff speak about a workforce that has grown so large, so quickly, that some workers feel rudderless and disconnected despite the parade of well-intentioned team bonding activities.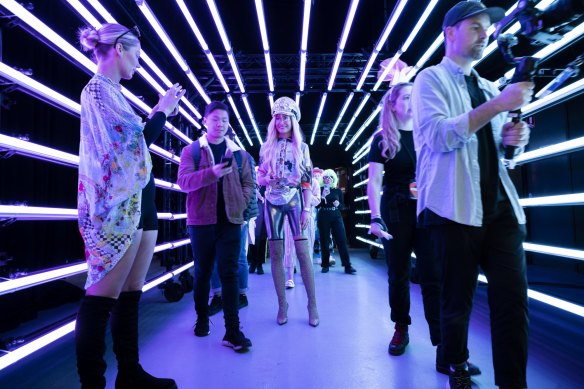 Canva employees at a fancy dress event last year in Sydney.Credit:Louie Douvis
(Think costume days at company functions, founders dressed as dogs on a company conference call and caricatures on the office wall for long-standing staff: co-founder Cliff Olbrecht is there as "Chief Yolo" in sagging jeans and a 90s style gangster chain, while other staff are the "Queen of Hustle" and "Magic Mike".)
The disconnect some employees feel is not helped by Canva's policy of allowing staff to work remotely full-time, meaning some barely venture into the swish offices equipped with rock climbing walls to meet their colleagues.
Across the industry, layoffs are so pervasive they feel inevitable. Tracking site layoffs.fyi recorded 161,411 sackings around the world at technology companies in 2022.
The count this year is already at 126,322 and could get much worse with the failure of Silicon Valley Bank. Every type of technology firm has participated in the firings, from start-ups with a few dozen staff to "unicorns" worth more than $1 billion, to ASX-listed firms and global giants.
The logic of cutting staff is simple: times are hard and investors want to put their money towards the most profitable companies. Never mind how recruiters sweet-talked recruits over the past few years with promises of secure jobs, high salaries and workplaces that genuinely care, the market has moved and workers are expendable.
Xero's share price rose about 10 per cent immediately after it announced the job cuts. Canva, of course, is not public but is widely considered a candidate to list on the stock market when the economy improves, so it can expect to be buffeted by some of the same forces.
While no start-up founder will say it publicly, there's widespread chatter that some companies are using lay-offs to rid themselves of poorly performing staff at a time when it will attract little attention.
But Canva does not fit neatly into the indicators for layoffs. It is profitable, unlike some start-ups that have had to cut staff to conserve cash, though it has not made its finances public.
"All in all, it's shaping up to be an incredibly exciting year for Canva."
Although Canva might go public in the next year or two, it is a private company for now with plenty of cash, so it does not face the same pressure from investors, who see even token lay-offs as a sign the c-suite is serious about efficiency.
Canva's most direct competitor, for example, the American graphic design giant Adobe, cut about 100 positions late last year – a tiny fraction of its almost 30,000-strong workforce. It has vowed not do company wide lay-offs. Canva, which has big product plans, has a modest workforce by comparison.
Canva's HR boss, Jennie Rogerson, projects confidence. "We have no plans to do any lay-offs," she said.
"We continue to be in a very fortunate position, last year was our sixth profitable year in a row, and we're very fortunate to have a strong cash reserve.
Staff enjoy a Canva Create event in Sydney last year.Credit:Louie Douvis
"More broadly, we've been very intentional with our headcount growth and only open new roles when we're confident it'll help us to achieve our goals."
Rogerson points to the company's 270 open roles to back her up ahead of the company's upcoming Canva Create conference, which last year was a gala celebration of the start-up.
"All in all, it's shaping up to be an incredibly exciting year for Canva," she said.
But even that level of enthusiasm has proved rubbery elsewhere in the past. A spokeswoman for Substack, a popular newsletter platform, had a blunt riposte to a New York Times journalist who questioned the company's financial performance in May last year.
"My comment is www.substack.com/jobs," the spokeswoman said, pointing to a hiring website then full of open roles. A month later, Substack announced lay-offs.
The Business Briefing newsletter delivers major stories, exclusive coverage and expert opinion. Sign up to get it every weekday morning.
Most Viewed in Technology
From our partners
Source: Read Full Article