As governments around the world set their sights on TikTok, the company is defending itself with what it does best – distraction.
Last week, TikTok chief operating officer Vanessa Pappas said that social media apps needed industry-wide legislation and that calls for TikTok to be banned were xenophobic.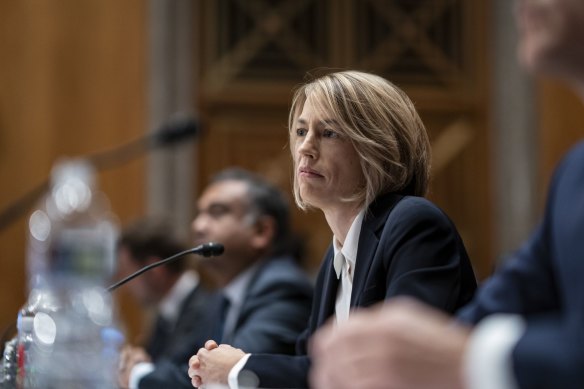 Vanessa Pappas, the Australian-born chief operating officer at TikTok, claims criticism of the platform is xenophobic.Credit:Bloomberg
"Should there be national legislation? The answer is yes, but it should not be held to companies based on where they're located," the Australian-born executive told the Upfront Summit in Los Angeles. "It has to be an industry-wide conversation and not predicated on some xenophobia that we're seeing."
Pappas is right to point to industry-wide problems. Most major social media apps, regardless of their country of origin, pose risks of data-harvesting and content-manipulation to influence public opinion, sowing discord, or even tilting an election – which are the main national security concerns about TikTok.
But TikTok is different because it is based in a country with an authoritarian political system, where the government ultimately can – and does – tell it what to do. That significantly exacerbates the risks.
As Home Affairs and Cybersecurity Minister Clare O'Neil has said, it is a "relatively new problem" to have globally mainstream social media platforms based in "countries with a more authoritarian approach to the private sector".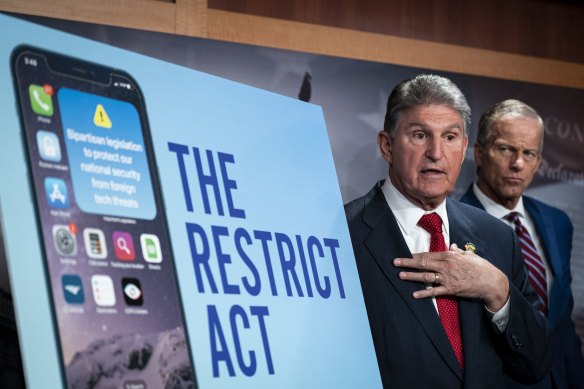 Senator Joe Manchin, a Democrat from West Virginia, speaks during a news conference at the US Capitol on Tuesday. The White House is endorsing a new bill to deal with national security risks posed by TikTok and other foreign apps.Credit:Bloomberg
Therefore, while industry-wide legislation is needed to deal with all apps, there also needs to be bespoke legislation that deals with TikTok and any other emerging major social media apps from authoritarian countries. Doing so is not xenophobic.
Consider recent history. In 2018, Zhang Yiming, the founder of ByteDance – the company that owns TikTok – was compelled by the Chinese government to make an abject public apology for failing to respect the Chinese Communist Party's (CCP) "socialist core values" and for "deviating from public opinion guidance" – one of the CCP's terms for censorship and propaganda.
And, since we're talking about xenophobia, ByteDance has collaborated with public security bureaus across China, including in Xinjiang where it has helped disseminate propaganda that whitewashes human rights abuses of Uyghurs and other minorities. Douyin, the Chinese version of TikTok, bans livestreamers from speaking Cantonese instead of Mandarin. When Chinese news outlet Sixth Tone tried to report on this, ByteDance suppressed the story.
The enormous leverage that the CCP has over ByteDance is what drove the company to boost its army of censors by 4000 people (candidates with party loyalty were preferred), and it's what continues to motivate ByteDance to conduct "party-building" exercises inside the company.
In April 2021, Beijing quietly formalised a greater role in overseeing ByteDance when state investors controlled by the party-state took a 1 per cent stake in ByteDance's Chinese entity, Beijing ByteDance Technology, giving them veto rights over the company's decisions. China's national internet regulator, the Cyberspace Administration of China, has placed key bureaucrats on the board of ByteDance's main Chinese entity.
The People's Republic of China party-state is, in other words, intertwined with ByteDance to the extent that the company can scarcely be considered a private enterprise geared only towards commercial ends. This is the case for many major Chinese tech firms – they are neither state-owned nor private, but hybrid entities that are effectively state-controlled.
We can't wait for complex issues of national data governance to be resolved as part of a wider overhaul before we deal with TikTok.
At the very least, we should abandon the current patchwork approach to banning the app across various agencies and government departments and introduce a blanket ban on government devices. TikTok user data is accessible to engineers based in China and the company has no plans to completely sever that access.
That would not solve the content manipulation problem – which could be the bigger concern for Australians who worry about the state of our political and social harmony. There's no technical solution to manipulation – which leaves a ban.
Yet, any ban can't just be about TikTok because inevitably it will be succeeded by other apps based under authoritarian regimes. A better approach would be legislation to tackle all state-controlled apps now and into the future.
We know the CCP would like to use TikTok to influence political opinion in countries such as Australia because it has talked openly about using Chinese-created apps to overcome the West's superiority in so-called soft power.
In the past, the party-state has tried to conduct its influence operations on Western social media apps in a process referred to as "borrowing a boat out to sea". With TikTok, the CCP doesn't need to borrow a boat. It owns it.
The Opinion newsletter is a weekly wrap of views that will challenge, champion and inform your own. Sign up here.
Most Viewed in Technology
From our partners
Source: Read Full Article