In the early hours of Monday morning, Elon Musk's cousin and fixer, James Musk, contacted Twitter staff to request help with a "high urgency" problem: the chief executive's missives were not being seen by enough people.
The bizarre incident, reported by technology industry newsletter Platformer, showed one face of Elon Musk. Here was the billionaire at his egotistical peak, making the social media network's engineers boost how many people see his thought bubbles or face being fired.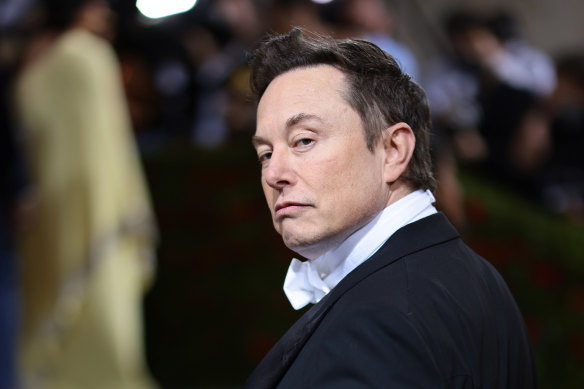 Elon Musk's tweets were failing to reach a large enough audience.Credit:Getty
Musk was unapologetic as users reported their feeds being flooded with his tweets, posting a disconcerting image of one woman, labelled "Elon's tweets", force-feeding another woman, labelled "Twitter", with a bottle of milk.
But there is another side to Musk's tenure atop Twitter, one that has been enthusiastically promoted by his boosters but overlooked by most because of the string of controversies surrounding the billionaire.
The company has rolled out a raft of features. Its paid Twitter Blue membership program is going live in more countries, with coveted badges for those who sign up. It has introduced longer form tweets so users do not have to take screenshots of lengthy statements. Companies can use an "affiliates" tab to link together all their accounts.
All this has been done with less than half of the staff that Twitter had when Musk took over the company last year for $US44 billion.
Twitter had its highest engagement ever in the first quarter of this year, according to Musk.Credit:AP
That last figure matters particularly because Twitter went more or less nowhere on the markets in its decade as a public company while its competitors such as Facebook owner Meta and YouTube owner Alphabet soared. In the quarters before it went private Twitter was losing hundreds of millions of dollars.
Only with lower costs — which also includes closing offices and data centres — does Musk have any hope of turning the business around.
There are signs his plans are working. The billionaire has said Twitter had its highest engagement ever in the first quarter of this year, which bodes will for its advertising prospects. And a report by the American news site Axios in January outlined how many of the country's premier sport and media organisations, including the NFL, NBA, Wall Street Journal and NBCU, continued to work with Twitter on content deals.
Which advertiser would want to put money onto a platform that seems to prioritise one man's need for attention over all else?
Despite the cutbacks, Twitter has remained stable. Mostly. So there is a path to Twitter becoming like SpaceX or Tesla, Musk's other companies that operate as genuine businesses under his direction and are buoyed by his huge profile and salesmanship but run by professional management teams.
The biggest obstacle to that happening remains Musk himself. Twitter is labouring under the burden of huge interest payments it must make as a result of the loans that Musk took out to buy the company at the inflated price of $US44 billion ($54.20 a share) during the overheated market in early 2022.
Its core revenue stream is advertising. And there is every indication that Twitter's ad revenue dropped sharply after Musk's takeover and has not recovered. One report said 500 major advertisers had ceased buying ads; another estimated Twitter's top 30 advertisers reduced spending by a 42 per cent in the last two months of 2022.
Why they left is no secret. Though Musk has portrayed the algorithm changes that boosted his tweets as fixing existing bugs and issues, which advertiser would want to put money onto a platform that seems to prioritise one man's need for attention over all else?
At a conference on Wednesday in the United Arab Emirates, Musk said he planned to appoint a chief executive to run Twitter by the end of the year. "I need to stabilise the organisation and just make sure it's in a financially healthy place and the product road map is clearly laid out," Musk told attendees via a video call. The other investors who put billions into Musk's Twitter takeover must hope that happens soon.
The Business Briefing newsletter delivers major stories, exclusive coverage and expert opinion. Sign up to get it every weekday morning.
Most Viewed in Technology
From our partners
Source: Read Full Article