Apple's HomePod is back, and looking nearly identical to the device the company removed from shelves in 2021. But while the gadget itself isn't too different, our homes may have changed enough that this hefty block of speakers, microphones and Wi-Fi connectivity makes more sense the second time around.
The HomePod released in 2018 sounded great, thanks to an array of tweeters, woofers and echo-cancelling microphones, and so does the 2023 version. You can ask Siri to play anything from Apple Music, Apple Podcasts or radio stations, fling music from other AirPlay-compatible apps like Spotify, or use it as an output for your other Apple gear including Macs or Apple TVs.
Tapping a recent iPhone on the top of the HomePod can move the music from one device to the other.
The issue with the original HomePod was that sounding good was really all it had going on for $500; Apple's smart home system was underbaked, Siri was noticeably worse than competing smart assistants, and the idea of shouting at an oblong to control your lights was still new and strange. At $480 the new HomePod is a little cheaper, but it also comes at a time when those issues are lessening.
A lot more people have smart devices in their homes now, and understand that the appeal isn't shouting instead of flipping a switch; it's linking things together for more options and convenience. Apple's HomeKit has also become much easier to use over the years, and works with more devices. Apple is adopting compatibility with the new Matter standard, and has included a Thread radio in the new HomePod, which might not mean much to you now but should result in most future smart stuff being visible to Siri and HomeKit.
With the original HomePod, Apple was keen to talk up its audio capabilities and leave the smart home stuff as a footnote. This time it wants you to consider it to be a physical extension of its secure smart home software which you can talk to, in addition to being a powerful speaker.
Once you have all your devices hooked up to HomeKit, the HomePod is very attentive to turning devices on and off, dimming lights, locking doors or whatever else you need. If you want to create a simple routine — like turning all your lights off at 10pm — you can also do that with your voice instead of mucking around with the app. And the HomePod has a built-in temperature and humidity sensor to help with climate routines; for example you could stick a floor fan into a smart socket and make it so it turns on whenever the temperature reported by the HomePod is above 25 degrees.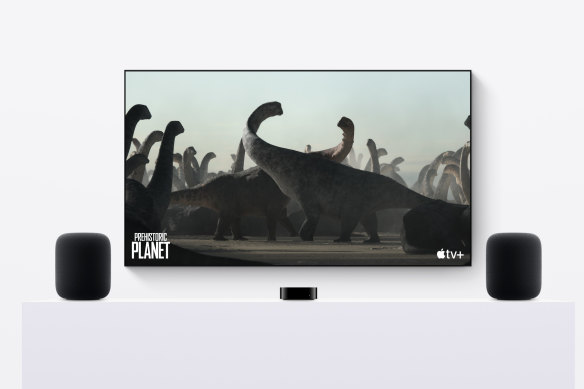 The HomePod makes for surprisingly good home theatre sound, if you can afford two of them and don't mind letting the Apple TV drive.
Like Amazon's speakers, the HomePod can also listen out smoke alarms and alert your phone wherever you are, meaning you don't have to get a smart detector. This feature is coming later in an update so I couldn't test it out, but I hope it can eventually do other sounds too, like doorbells and breaking glass.
Siri itself has improved too and confidently gives weather reports, travel estimates, measurement conversions and more, but unfortunately, it's still less useful on HomePod than it is on other devices. In too many instances it answers my questions by telling me to ask again on an iPhone, where a Google speaker would have read information from a web page and sent me the link, and it also insists on shouting unnecessary confirmations.
It also won't come as a surprise that the HomePod is more useful the more enmeshed you are in the Apple ecosystem, but that too has improved since 2018. The Hi-Res Lossless and Spatial tracks from Apple Music work well on HomePod, podcasts sync properly between speaker, phone and watch, and the HomePod supports Dolby Atmos signals from the Apple TV 4K. If you plug the Apple TV into an ARC port you can even send audio from your television and everything connected to it straight to the HomePod, with surprisingly little latency.
If you get two HomePods to make a stereo pair, the result is seriously impressive for Spatial, Atmos and TV content, but at that point you're spending close to $1000. Unfortunately, the new HomePod can not pair with the old one.
Overall the HomePod still faces stiff competition. Google has long since stopped making expensive smart speakers, but Amazon has the Echo Studio and both companies have arguably superior assistants that are in dozens of smart speakers and work great with Apple devices. Something like the Sonos One offers a lot more freedom than the HomePod, and at $150 less.
The selling point of Apple's speaker, aside from good sound, remains closer integration with the wider Apple world. And since that world has become a bit broader, smarter and more open since 2018, those ties feel a lot less like a limiting factor for the HomePod.
Get news and reviews on technology, gadgets and gaming in our Technology newsletter every Friday. Sign up here.
Most Viewed in Technology
From our partners
Source: Read Full Article