November last year was a shocking time for the crypto industry. FTX, an enormous crypto exchange founded by Sam Bankman-Fried, and an associated crypto hedge fund called Alameda Research had collapsed, prompting investors to look around in fear at which company might topple next.
Robbie Ferguson, co-founder and president of Australia's largest crypto start-up, the blockhain gaming company Immutable valued at $3.5 billion, had a reassuring message. "Immutable does not hold any funds on FTX, nor has lent Alameda or FTX any assets," Ferguson posted on social media on November 12.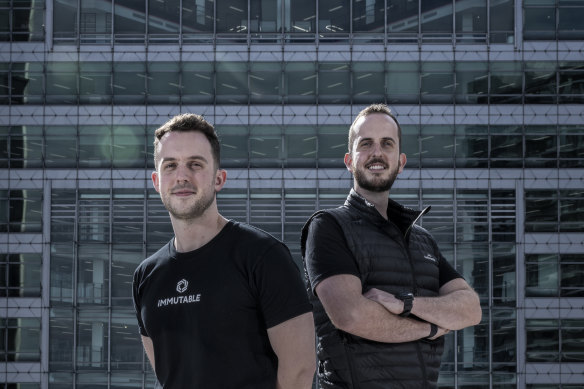 Robbie (left) and James Ferguson won a spot on rich lists last year off the back of their crypto company, which has partnerships with firms like TikTok.Credit:Louie Douvis
There's no suggestion Ferguson was wrong, but the broader picture is more complex. A Cayman Islands foundation linked to Immutable had loaned Alameda 10 million digital tokens, variously valued between $US800,000 ($1.1 million) and $US1 million.
Ferguson's older brother James, Immutable's chief executive, is one of three directors of the Cayman Islands entity, which is called the Digital Worlds Foundation.
The foundation, which is a non-profit that supports the tokens behind several Immutable projects, has not revealed the reason for the loan.
In its annual report to the Australian Securities and Investments Commission, Immutable disclosed that one of its key events in the last financial year was that it "advised and assisted the Digital Worlds Foundation Group of entities on the successful sales and launches" of three tokens.
The tokens are for Immutable X, a piece of blockchain technology built by Immutable; its premier game Gods Unchained; and a coming game to be published by Immutable called Guild of Guardians. Tokens for that last game were loaned to Alameda.
There is no suggestion of wrongdoing by the foundation, Immutable or their employees and the loan is worth very little compared with the assets of either the foundation or Immutable.
But the transaction shows Alameda's reach in the crypto industry at the height of the bubble in 2021 and early 2022. At that time, firms such as Alameda were promising huge returns to investors but many ultimately failed to deliver.
A spokesman for the foundation confirmed James Ferguson was on the board after this masthead noted his position on the Cayman Islands General Register, having earlier refused to do so, and that one of its subsidiaries had loaned about $US800,000 worth of Guild of Guardians tokens to Alameda.
"All members sit on the board as independent members, not representing any company and the board maintains strict independence from its partners," the spokesman said. "The Digital Worlds Foundation is an independent, non-profit organisation. Non-profit foundations are a common entity structure which support the decentralisation of token protocols, and are used by many of the largest and most impactful blockchain projects."
The loan was originally disclosed in a letter from AirTree Ventures, a major investor in Immutable, to its backers that was obtained by this masthead. It put the value of the loan at about $US1 million and mistakenly described the foundation as Immutable's "grants arm". A spokeswoman for AirTree later clarified that the foundation was independent.
A list of creditors from FTX's administrators published by the US courts also includes Guild of Guardians, with an address listed as an Immutable subsidiary in Sydney called Leonis.
But an Immutable spokesman said the document was inaccurate and stood by Robbie Ferguson's previous statement. "Immutable has not provided any loan to Alameda or FTX, and our previous statements on this are correct," the spokesman said. "Any reports which state that Immutable, or any subsidiary including Leonis Pty Ltd, is a creditor are incorrect. Its inclusion on any creditor list is an error."
"The Digital Worlds Foundation is an independent foundation and is not part of the Immutable group of companies," the spokesman said separately. "Immutable does not have any ownership in or control over the Digital Worlds Foundation."
The spokesman also emphasised the foundation's independence. "James is a director of it in his personal capacity," the spokesman said. "It is commonplace for a person to hold more than one independent board seat in an ecosystem."
The Cayman Islands, a small British overseas territory in the Caribbean, is a popular home to crypto projects because of its permissive attitude towards the technology and the stability of its laws.
The Business Briefing newsletter delivers major stories, exclusive coverage and expert opinion. Sign up to get it every weekday morning.
Most Viewed in Technology
From our partners
Source: Read Full Article