Ed Husic has a message for Australian expatriate technology workers in the United States: come home.
The federal industry minister is visiting the US just as its vaunted technology sector – previously the growth engine of the world's largest economy – is undergoing a shakeout. Tech giants such as Google, Microsoft and Amazon are shedding thousands of jobs as profits drop from record highs and investors retreat from the sector.
But Husic believes he has a compelling pitch to lure the thousands of Australians working in Silicon Valley and other major cities home. The Labor government this year hopes to legislate the $15 billion National Reconstruction Fund it took to the last election, a $1 billion share of which will be dedicated to critical technologies such as artificial intelligence, quantum computing, and advanced manufacturing.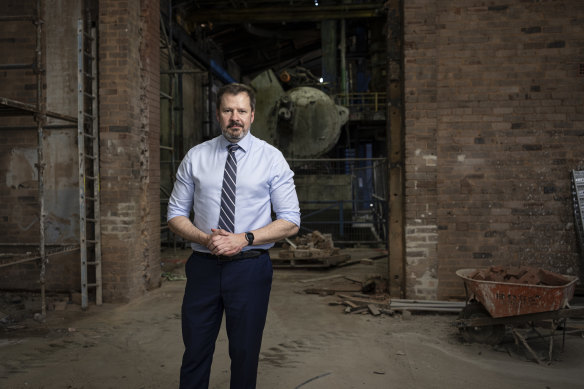 Industry Minister Ed Husic wants to take advantage of a moment of disruption in the global technology industry to lure Australian workers home.Credit:Wolter Peeters
"What we want to do is signal that … the capital is available for business expansion and capability," Husic told this masthead from San Francisco on Friday. "That's got to occur."
From San Francisco, Husic will fly to Los Angeles and later Boston, where he will meet with executives at Moderna, the vaccine manufacturer that is building a facility in Melbourne.
The minister hopes that the reconstruction fund will work with private equity, venture capitalists and the nation's superannuation funds, which with a total value of around $3.4 trillion are among the world's largest asset pools, to spur on Australia's technology industry.
The backdrop is bleak. After the technology industry enjoyed a stellar run during COVID, when business and consumer spending on technology leapt up due to lockdowns, layoffs have set in.
This month Microsoft announced it would cut 10,000 jobs, Amazon expanded previously announced cuts to total about 18,000 and Google declared it would axe 12,000.
A raft of other large technology firms, from customer relationship management software seller Salesforce to music streaming service Spotify, have announced similar layoffs. Start-up founders too have groused that it is becoming harder to raise funds for their companies to grow as increasingly cautious investors pull back from putting money into risky new businesses due to rising interest rates and inflation.
But with technology skills still in high demand and the labour market tight, Husic argues Australia will still benefit from technology experts overseas coming back or setting up branches of their companies here. "For years we suffered a brain drain," he said. "I figured it was time for the brain regain."
Husic acknowledges obstacles to this plan, from companies that want better access to America's much larger market to the tax difficulties of moving US retirement savings to Australia, which the start-ups he has spoken to told him about. "There are some practical things there and we do want to start a process of examining how we cut red tape and make it easy for Australians who want to return home to do so quickly," Husic said, without providing details.
He also demurs when asked about the decisions of Australian technology companies such as Atlassian and Canva to base their legal parent entities in America.
Legislation on the reconstruction fund is before Parliament.
While he travels, Husic is reading Chip Wars, a book that argues computer chips are essential for economic and military supremacy in the 21st century. Australia has almost no computer chip industry and while it would be very difficult to build one because of dominant players overseas, Husic would like Australia to play some role in the supply chain. But he is cautious about the cost.
"I have deep pockets but I think they can always go deeper," he said. "When it comes to semiconductors they can always go deeper."
Most Viewed in Technology
From our partners
Source: Read Full Article