Snap's Australian boss Kathryn Carter sits atop what would be a mother lode for hackers: the private messages, photos and videos more than 7 million Australians send through the company's eponymous Snapchat app.
After intrusions into telecommunications company Optus and insurer Medibank Private thrust the issue of cybersecurity into the public consciousness, Carter is thankful that Snap made ephemeral messaging a core feature from its earliest days.
"The privacy and safety of our community is incredibly precious to us and has always been from day one," Carter said. "Things like ephemeral messaging – some of our earliest innovations – they are designed in a way that will disappear. There isn't the opportunity for content to be saved in perpetuity and potentially used in kind of inappropriate ways down the path."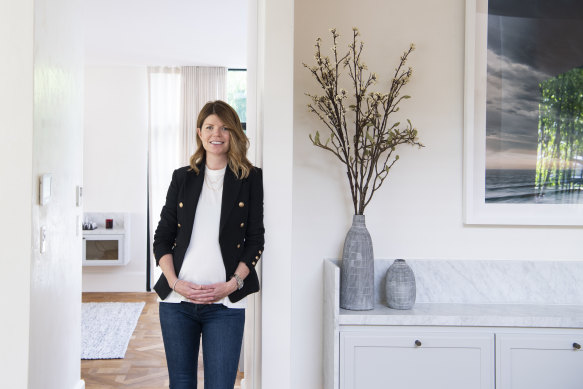 Snap's Australian boss Kathryn Carter at home in Sydney's eastern suburbs.Credit:Louise Kennerley
The social media platform, which says it has more than 7 million users in Australia, mostly between 13 and 34 years old, allows users to send photos and videos to others that disappear after they're viewed. But those ephemeral messages can be saved on the app by the recipient if the sender does not set a time limit for viewing.
"We absolutely defer to the notion of privacy by design and that absolutely applies to everything that we do, be at our commercial approach or…a product and design perspective," says Carter, a former News Corp sales executive, who is now Snap's general manager for the Asia Pacific region.
Her comments come as the federal government conducts a review of the Privacy Act with a view to clamping down on how much data companies hold on Australians – a hot button issue after the Optus hack threw a spotlight on firms retaining sensitive data even years after customers left.
Attorney-General Mark Dreyfus said in October he wanted to overhaul privacy laws by the end of the year and some changes, which include increasing fines to up to $50 million or a percentage of a company's turnover for the most serious breaches, are already being considered by parliament.
Optus is not the only major corporation to suffer a breach in recent months. A hacking group that Australian Federal Police believe to be based in Russia attempted to hold health insurer Medibank to ransom and last week children's charity The Smith Family became the latest victim to disclose a breach.
Carter said Snap tried to be ahead of legislation, though it is happy to work with governments on policy issues. "We always strive to have the highest level of policy as it relates to safety or privacy or data, or the protection of our community, which in most instances, has meant that we haven't had to then go and make any changes retrospectively as it relates to particular policy developments."
This year has been bad for major technology companies, especially those fuelled by advertising such as Snap. Its shares are down about 80 per cent this year to $US10.18 ($15).
But unlike Meta, the social media company behind Facebook, which is cutting its investment in news as it tries to trim costs, Carter said the company wants to increase its engagement with the media.
Meta and Google signed deals collectively worth tens of millions of dollars with major Australian media outlets in 2021, including Nine, the owner of this masthead. Each deal was different but broadly compensated the media for the use of their content on the major tech firms' platforms.
That came after a combination of lobbying from the media, pressure from the Australian Competition and Consumer Commission, and legislation but Meta has since given every indication it wants to stop paying when the deal is up for renewal.
In a wide-ranging interview, Carter said Snap planned to boost its investment in local content deals after experiencing a large increase – 55 per cent over the last year – in the number of Australians using a specialised part of its app for short-form video. The section resembles TikTok, the app owned by Chinese company ByteDance that has popularised the format.
Snap has not been forced into major commercial deals for use of news content on its platform because such posts are not a focus of its business. However, it does offer users some news articles and videos from local and international providers.
Locally, the company works with LADbible and Totem Network and runs shows on its 'Discover' tab such as Bondi Vet and Masterchef Australia. "The intent is to make sure that we are investing in local content partnerships," Carter said. "That will certainly be a priority for us in the new year so that Australian Snapchatters are able to experience a good mix of news from both local and global voices."
"We're very respectful of the editorial process and want to ensure that the kind of partnership structure which we have developed in other markets is one that fairly compensates our partners for their effort and contribution as well."
Documents filed to ASIC show Snap Australia grew revenue from $78.3 million in 2020 to $106 million in 2021, while net profit grew from $6.8 million to $18.6 million. The majority of Snap's local revenue comes from advertising services, such as Snap Ads and sponsored "filters", which can be overlaid on a picture of a person.
With Nick Bonyhady.
The Business Briefing newsletter delivers major stories, exclusive coverage and expert opinion. Sign up to get it every weekday morning.
Most Viewed in Technology
From our partners
Source: Read Full Article