Former Telstra boss David Thodey will lead a review of MyGov, the federal services online platform that crashed in the early days of the pandemic, sending thousands into Centrelink queues.
MyGov, which receives about 1 million sign-ins daily, connects Australians to agency sites that issue everything from online tax returns to COVID-19 vaccination certificates. It has become ever more important during the pandemic but long been derided as clunky and unreliable.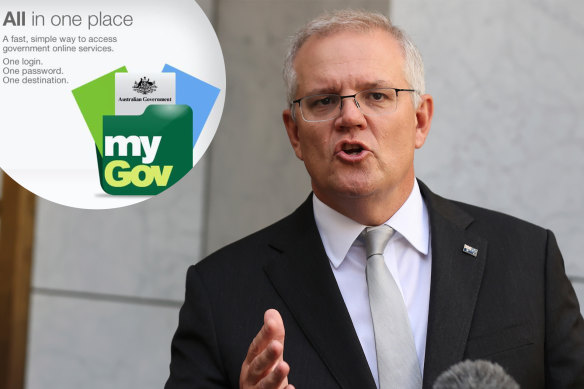 Scott Morrison backed MyGov with millions of dollars in funding.Credit:Alex Ellinghausen
Former human rights commissioner Edward Santow, who is joining Thodey on the audit, said he had seen the consequences of subpar government software in his previous work as a community lawyer.
"I've had lots of clients in the past who have really struggled in accessing really crucial government services, including through MyGov, and often for them this is a matter of keeping a roof over their heads of themselves and their families," said Santow.
There are about 25 million accounts linked to MyGov.
Thodey said he had seen the service improve recently because users can log in with their email rather than a randomly generated number. Despite recent high-profile technology failures, such as the now-defunct COVIDSafe app, Thodey said governments had the capacity to make good online services.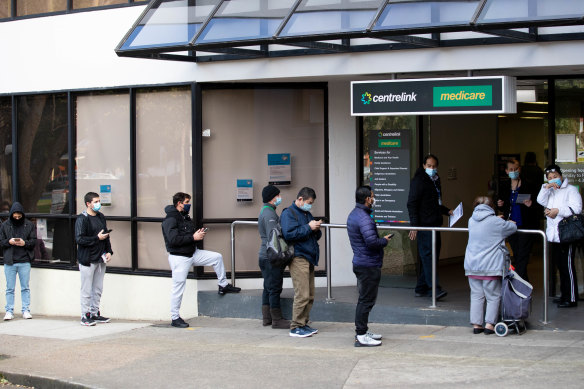 Thousands of people queued at Centrelink offices in early 2020 before the government introduced JobKeeper.Credit:Janie Barrett
"The truth is Services Australia has done a lot of work in this area," said Thodey, now chair of accounting software company Xero and payments firm Tyro. "I think we'll just look at what they've done and see if we can take the best-in-class out of that."
Santow, now an industry professor at the University of Technology Sydney, said Australia's privacy law, which applies to MyGov, was so full of exceptions and qualifications it was like "swiss cheese". The government is looking at the privacy act separately, but Santow said the MyGov review was a chance to ensure it only collected limited data about people, used it for its original purpose and deleted it promptly.
ANU epidemiology professor Emily Banks, eSafety Commissioner Julie Inman Grant and former Uber executive Amit Singh are the other three reviewers, who will canvas users, states and territories, public service departments and interest groups before reporting by the end of the year.
Government Services Minister Bill Shorten has previously told this masthead that Australians had to jump through too many administrative hoops, of which MyGov is one, to get access to government services and payments.
"They've created digital workhouses, basically," Shorten said of the previous government.
On Thursday, Shorten said the review would also help to rebuild trust after robo-debt, the program launched by the Coalition government that unlawfully took back welfare payments based on faulty IT systems.
"In rebuilding this trust, the audit will give us the opportunity to create a set of enduring principles for how government services are designed and developed in an ethical and transparent way," Shorten said.
The review is unlikely to hold public hearings but will take submissions in some form and host roundtables.
Cut through the noise of federal politics with news, views and expert analysis from Jacqueline Maley. Subscribers can sign up to our weekly Inside Politics newsletter here.
Most Viewed in Technology
From our partners
Source: Read Full Article