In the months before it laid off almost one in five of its employees, the link-in-bio tool Linktree was declaring its business was "all growth" as it promised its staff a lifestyle payment, above-market wages and a fresh new office in the trendy Melbourne suburb of Collingwood.
And though the focus on all-out growth has gone, along with about 50 employees, the perks remain.
Free corporate yoga, Uber Eats allowances and team bonding events at bouldering gyms have long been table stakes in the start-up sector, where firms flush with funding from venture capitalists hoping to find the next Facebook or Uber fight for staff. Even as interest rates rise and economic clouds gather, most start-ups are keeping the staff sweeteners.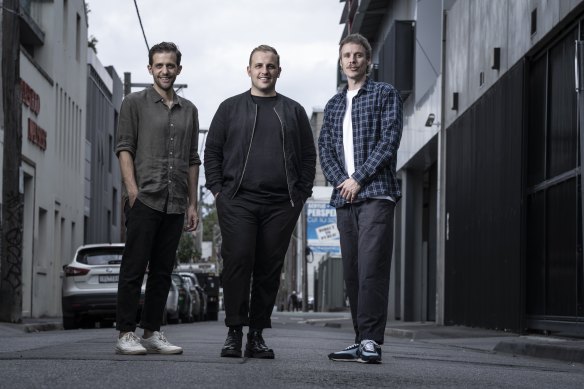 Linktree co-founders from left: Anthony Zaccaria, Alex Zaccaria and Nicky Humphreys.Credit:Eamon Gallagher
Immutable, the Sydney-based blockchain start-up, is offering up to $16,000 to staff who refer new employees, despite a small round of lay-offs, as part of a reorganisation at one of its gaming products.
A spokesman for Immutable said the lay-offs were a hard choice but necessary and the company was continuing to grow in other areas.
Linktree lets influencers build lightweight websites connecting their different online accounts. It is still promising "above market pay rates" and a $6000 lifestyle payment that can be used on everything from yoga to a new bicycle, despite announcing it was cutting 17 per cent of its workforce, or about 50 people, this week.
Eucalyptus, a healthcare start-up behind the brands Pilot, Juniper and Software, has free food and drinks on tap, even after making about 20 per cent of the company redundant last month.
Graphic design firm Canva, which has had about $20 billion slashed from its value by investors, is also keeping complimentary meals, which it says is a way of bringing employees together, and the annual "Vibe & Thrive" stipends.
Several industry sources, who were not authorised to speak publicly, expect the trend to continue. They argue that despite seeming frivolous, perks are a canny way for start-ups to claim they have a good office culture or encourage staff to work later at low cost. Others see perks as a hackneyed substitute for a genuinely enjoyable office environment or decent pay.
"Free kombucha is way cheaper than paying $40,000 extra in salary to someone who wants to work somewhere cool," said one technology worker.
But supply is starting to catch up to the huge demand for talent, though the labour market is still tight. The chief executive of talent marketplace Expert360, Bridget Loudon, said on Thursday that the shift prompted the company to do a small round of lay-offs, affecting seven staff.
"There are more talented engineers at the moment," Loudon said. "This is driven largely by lay-offs in the tech sector from the majors (Microsoft, Klarna, Atlassian, Linktree) to earlier-stage companies."
Linktree declined to answer questions about its finances but confirmed there had been no changes to its perks and benefits or plans to move to the new office despite the lay-offs.
In a blog post on Tuesday, chief executive Alex Zaccaria stressed his sadness at the lay-offs. He said the company had made big plans and hired to meet them on the assumption that the strong economy of 2021 would last.
"Instead, conditions changed faster than expected and those assumptions I made were wrong," Zaccaria said.
Eucalyptus chief executive Tim Doyle said the company was not changing its use of perks because they helped build its culture and brand. "They are things we want to preserve," Doyle said.
Justin Angsuwat, chief people officer for the venture capital fund Blackbird, said he had spoken directly to more than a dozen founders recently about how they should approach perks in the downturn.
Contrary to others' views, he said perks alone were ineffective for companies.
"All the data shows that very few perks on their own drive any employee retention or high performance," Angsuwat said, in contrast to things like leave policies and promotion opportunities.
He said start-ups would make different calls based on their finances and culture. Some were cutting perks quickly because it was better than having to lay off staff. Others were adjusting their perks to ensure they were more closely linked to their company values, which was effective at keeping and motivating staff.
"During a bull run market… the trade-off is deciding which one of these perks do I spend $1 on," Angsuwat said.
"In the current market, the trade-off isn't between which perks to spend it on, it's between perks and headcount or perks and runway [how long before the company runs out of money], so the equation is very different."
The Business Briefing newsletter delivers major stories, exclusive coverage and expert opinion. Sign up to get it every weekday morning.
Most Viewed in Technology
From our partners
Source: Read Full Article