A key mechanism in online games popular with children is being targeted by the federal Coalition as part of a proposed classification crackdown unveiled by Communications Minister Paul Fletcher on Wednesday.
The proposed new classification guidelines include introducing a minimum classification rating for games that feature "loot boxes".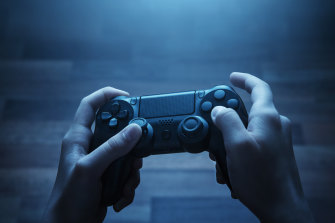 Communications minister Paul Fletcher has weighed into the gaming space ahead of the federal election.Credit:Shutterstock
Loot boxes are virtual items that players can redeem for a range of other virtual mystery items including weapons, armour and customisation options for their avatar, such as costumes. They've increased in popularity as game developers looked to generate more money through in-game purchases.
Players can win loot boxes by completing in-game tasks, but can also purchase them. In popular games including Halo 5 and Roblox, loot boxes can cost players up to hundreds of dollars, with the potential to cash out on the "winnings" by selling redeemed items in real-world marketplaces.
Experts and parents have expressed concerns about gambling games including those with loot boxes because they are linked to gambling risks, such as overspending.
Professor Sally Gainsbury, gambling psychology researcher at The University of Sydney, told The Sydney Morning Herald and The Age there were risks in exposing young people to this type of gambling, including making it more likely that they will develop a favourable impression of wagering. "They might [then] be interested in seeking out more gambling opportunities, potentially getting focused on these loot boxes and developing problematic gambling habits," she said.
Gainsbury, along with senior lecturer in psychology at Massey University Dr Aaron Drummond, said there wasn't conclusive research that showed playing these games caused people to develop problematic gambling habits.
Another risk of games involving loot boxes, particularly for young people, is the impact on their spending.
Spending on loot boxes by the individuals without problematic gambling symptoms averages between $2 and $8 according to Drummond. And the figure is closer to $US13 ($18) for those classified as problem gamblers. Drummond said that average was also skewed by a few people spending more than several hundred dollars a month on the mechanism.
The Coalition's announcement follows parliamentary inquiries into loot boxes and similar mechanisms in games held in 2018 and 2020, as well as a proposal by independent MP Andrew Wilkie last year to apply an R18+ rating to any game containing them.
If re-elected the government will work with the Classification Board to add specific warnings on content depicting suicide and violence against women, as well as for loot boxes. The National Classification Scheme will also be updated, following consultation with the states, to factor in the rise of loot boxes.
"This isn't about banning or censoring content," Fletcher said. "It's about ensuring families can make more informed choices."
Wilkie told The Sydney Morning Herald and The Age that he welcomed any efforts to crack down on the "predatory behaviour" of games containing loot boxes.
Drummond notes that changes are often made to games after their initial release and that classification systems need to be updated as new features are announced so that parents can stay informed.
Gainsbury believes there needs to be further education on how to manage money and spend appropriately online. "That's not only for loot boxes, but lots of things that young people are engaging in," she said.
"There needs to be a clear differentiation that an action is not reflective of real life. When you start spending money on it, that's where the harms come about."
Get news and reviews on technology, gadgets and gaming in our Technology newsletter every Friday. Sign up here.
Most Viewed in Culture
From our partners
Source: Read Full Article