Instagram has moved to defend itself against TikTok, announcing a ranking change that will push videos – reposted from the rival social network or copied from other users – down the feed of posts its displays.
Adam Mosseri, the head of Instagram, announced the change overnight, AEST, and described it as a way of rewarding the creation of original videos and supporting influencers. It will also likely mean fewer people see reposted TikToks on Instagram as the two platforms duel for the attention of younger users.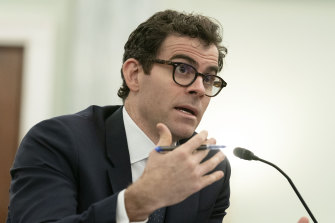 Instagram head Adam Mosseri said creators were at the heart of the photo sharing app and described the changes as a way of aiding them.Credit:AP
"If you create something from scratch, you should get more credit than if you are resharing something that you found from someone else," Mosseri said in a video posted to Twitter. "We're going to do more to try and value original content more, particularly compared to reposted content."
Mosseri did not explain how exactly Instagram's ranking system would change and posts with watermarks, like the one TikTok puts on videos made on its app, have long been out of favour with Instagram's algorithm.
Meta, Instagram's parent company, lost $US230 billion ($322 billion) in value in February when it revealed it was having trouble attracting younger users of the kind who enjoy TikTok. Its stock price has not recovered since, though there has also been a broader sell-off of technology companies.
Instagram has become a dominant social media platform in Australia, with a reach of about 11 million people on one estimate, in part because of its willingness to copy features from other platforms. Instagram Reels are 30-second video clips very similar to TikToks while Instagram Stories are video or photo updates that last 24 hours and ape a similar feature from Snapchat.
But the similarity means many users simply re-post clips originally made for TikTok or other platforms to Instagram, making it sometimes appear more like an aggregator for the social internet.
Curtin University Associate Professor Crystal Abidin, a leading digital culture researcher, said the status quo benefited Instagram because it attracted people who wanted a quick way to see some of the best posts from social networks.
"But on the downside it's losing its brand identity," Abidin said. "People are not on there for 'Instagram TM' posts anymore."
The change should help restore Instagram's distinctiveness but Mosseri acknowledged in his video that ranking shifts can be contentious. According to Abidin, she had seen influencers complain that their posts were being seen by fewer people despite putting separate content on TikTok and Instagram, though there could be many reasons for that.
Instagram's move to prioritise original posts will also affect aggregation pages that repost other users' photos and videos.
A spokesman for one of Australia's largest Instagram pages, Brown Cardigan, which has built a following of 1.1 million people for its brand of larrikin-tinged humour posts largely sent in by others, said it was unlikely to be hit by the changes.
"The vast majority of our reels are user-submitted and not TikTok-watermarked videos content, which all articles on this suggest is what will be targeted by the algorithm," a spokesman said. "While often our stuff is ripped off and run elsewhere the vast majority of our content is directly submitted, so we're the first outlet to run it."
"Increasingly that content is licensed from the submitter, purchased from them along with a signed contract."
Mosseri, the Instagram boss unveiled two other changes in his announcement: allowing all users to tag products in their posts, to aid shopping on Instagram; and the addition of occupation tags for Instagram users, such as rapper or photographer.
Edward Deal, head of strategy at influencer marketing agency Born Bred Talent, said representatives from Instagram had long made clear that original content would perform better on its platform.
"[Unoriginal content] is probably something that is already de-ranked," Deal said. "Now it's just public."
He said the change would be a boon to creators who put in the work of making posts that fit the distinct interests of users on TikTok and Instagram. "Users are on Instagram to see Instagram content," he said, which tends to be more polished than the more casual aesthetic popular on TikTok.
The Business Briefing newsletter delivers major stories, exclusive coverage and expert opinion. Sign up to get it every weekday morning.
Most Viewed in Technology
From our partners
Source: Read Full Article